CLASSIC
The engineered Classic™ Frame System is the ideal system for any event that requires a large, unobstructed covered area. With the addition of cover mids, the Classic can grow to impressive expanses.
KENTUCKY TENT MODEL APPROVED
30' | 40'
VERSATILITY IN GRAND-SCALE
Expand to 100+ feet in length.
CLASSIC FRAME SYSTEM
Engineered and wind load tested up to 75 mph.* Snow load rated.
Kentucky Tent Model Approved.
Tubing is manufactured of 6005 T-6 anodized marine aluminum with exclusive alignment line; 1/8" wall thickness.
30' wide tents include double-tube corner rafters, 2" mid-rafter and 2" side bars.
40' wide tents include double-tube corner rafters, double-tube mid-rafters and 2" side bars.
Galvanized steel Flo-coat™ fittings.
Failsafe steel snap button assembly.
Adjustable leg height 7'3", 8'3", 9'3".
1/4" plastic coated steel cable(s) with 3" snap hooks are included on frames 60' and longer.
Cover pitches for the CLASSIC™ are: 30' wide – 8';  40' wide – 10'6". Add center mast height for cover pitch of the 30' High-Peak style.
Stake and rope anchoring included.
Cross-brace systems are available for any size CLASSIC™ frame.
*Cross-bracing required on frames larger than 30' x 30' to meet wind load requirements.
CLASSIC COVERS
Standard covers are manufactured of an exclusive high quality 18oz. lacquer coated black-out vinyl material which makes the cover easier to handle, store, install and clean.
Available in 18 oz. solid colors and 30" stripes.
Also available in Clear Burlan 18 oz. SkyLite™ vinyl with embedded filament lines that help prevent cover expansion.
"West Coast" style covers can be manufactured upon request.
Seams are 100% electronically welded.
Expandable mids are available in 10' and 20' mids for 30' and 40' wide covers.
Stainless steel buckles prevent unsightly rust stains on your cover.
Double reinforced straps and buckles.
Vinyl grommets installed by R.F. welding on expandable covers.
Cover storage bag included.
USE OF MID EXTENSIONS
To extend the length of any of the CLASSIC Traditional frame tents there are 10′ and 20′ cover mid extensions that lace to the main tent cover. The diagram shows how the loops from the extension fit through grommets on the main tent cover and then loop-lace together. A vinyl flap then covers the lacing for a clean, seamless look. An expandable cover can ultimately save you money by purchasing one tent and having the versatility of a multi-sized tent. This feature can help accommodate you and your customers' needs by providing the perfect size tent for any occasion.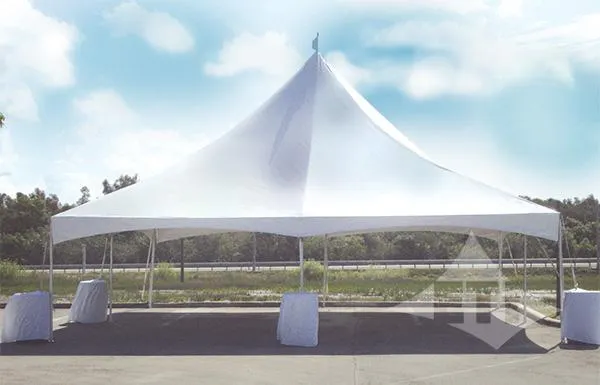 HIGH PEAK STYLE
In addition to the Traditional cover style that all our CLASSIC tents come in, we also offer a larger 30′ x 30′ High-Peak cover style.
Download the PRICE LIST below for up-to-date CLASSIC Frame and Cover pricing.